Holidays are getting to me. I may find myself unable to revert back to school life next year...(like as if I was ever in school-life mode the whole year) X0
But oh well, might as well enjoy my last few weeks of freedom before the start of my whole-year-long torturous ordeal, no?

Just went to watch a movie at Star Cineplex, Walt Disney's Enchanted with some of my classmates in conjunction with Ryner's birthday. (By the way has everyone seen the new face-lift the [Alakat building/Medan Pelita/whatever it's called] has had? It's so overly cheerful and... an eyesore for the depressed...)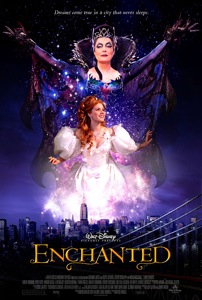 Anyway I think it was a sweet and happy-ending movie...but I feel it was kind of rushed, like they couldn't wait to finish the movie.
The queen died so quickly, you would have thought she couln't fly?? And why nothing was done to investigate the emergence of the fairy-tale people?? Silly New Yorkers... (to all who haven't watched - so sorry I'm spoiling the fun...XD) Interesting to know the princess managed to sew two whole fantastic dresses using the curtains before the others woke up... haha!
But nevertheless it was fun to watch a movie after sooooo many months!! Although we arrived there late thanks to
some
people's fault... by the time we got in, Princess Giselle had already appeared in the real world...
After the movie, Ryner, Nat and I went to Crossway to hang out and then McDonalds. Now here, Ryner and I started preaching to poor Nathaniel (who incidentally has the same name as the evil witch's sidekick-turned-good-guy... muahahaha)
who looked totally clueless, distressed and wishing we would just shut up so he can eat his Spicy Chicken McDeluxe, i think it's called, in peace... haha!!
(By the way the chicken McNuggets with BBQ sauce is really nice, but due to price inflation these days the nuggets were so damn small... oh well)
As we were talking about salvation, law, grace, and some religious issues Nat raised, I began to realize that so many people are cluless and lost, aren't they? Not saying that Nat is clueless or lost (he's going to slaughter me next year...) but it got me thinking. These people are asking questions, seeking the truth... They are trying to find a purpose in life - some say they live to do good deeds, some live for love (don't understand
that
) - so close yet so far from the truth!
What, or who takes up your life? What takes precedent?
(I'm sorry if you think I'm super-religious fanatic or something, but while I'm not at all a holy-moley Liew or ReveRyner, I strongly believe that Jesus is the only solution to the world's many problems - and not just the church or the religion itself - but to know God's amazing, amazing grace and love which transcends ALL understanding. So there,
go away
if you don't feel comfortable. =P)
Life's not a fairy tale, most of the time they don't end like Giselle and Robert's as well as Edward and Nancy's happy ending. We hope they do but... whatever life throws at us cannot affect us when we have God on our side, no?
John 10:10 says that the devil comes to steal, kill and destroy but God came to give life and life abundantly.
We can live an abundant, and yes,
enchanted
life with God with us everyday of our lives an until eternity, but only if we are willing to entrust our whole being to Him! Watch
this
video by
Joyce Meyer
, it's really inspiring.
Let God enchant your life!