On Sunday afternoon, 9 March 08, a group of eight adventurers consisting of two clans - the Lee and the Lis families (four members each), went aboard a travel cruise (an Unsa) heading towards Penang. Coincidentially, both our families are similar. The young Lees consist of two girls and one boy, so are the Lis family's children. I have the same name as Uncle Samuel Lee and the Lee's youngest girl is Esther, like my eldest sister. So cool right? Then, there are four of us whose ages can be combined to form a short arithmetic progression - Matthew Lee (16 yrs old), me (17 yrs old), Serene Lee (18 yrs old) and Hosanna (19 yrs old)...!!

Ironically, we drove through the states currently ruled by opposition after the 12th general elections - Selangor, Perak, Kedah and Penang. I pray that this change of government will be for the better and that God will be the King of the nation... I find it odd that for the first time, I am not under BN. Xo Is it a good or bad thing? We'll have to wait and see. (I don't like politics, so spare me! During the trip our parents and their hosts kept talking about the elections while Matthew Lee and I kept complaining about it!)

First stop - 1 Utama! It was so big that I wasn't able to walk through everything in the one and a half hours we were given but I managed to play in the arcade as well as look through the biggest bookstore I have ever seen - MPH!! Matthew Lee was unusually kind to buy me a glass chess set as a belated birthday present... I wonder what alien abducted the real Matthew Lee?? Anyhow, I fell in love with it when I saw it in the S&J store, so... thanks, Matthew's impersonator!!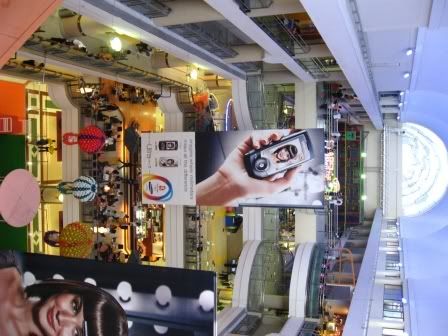 We initially intended to go all the way to Penang on Sunday night, but by the time we reached Ipoh (Perak), it was already about 10 pm, so we decided to spend the night at Heritage Hotel, Ipoh. We ate dinner there... tauge ayam!

Hosanna in the middle and Esther Lee on the right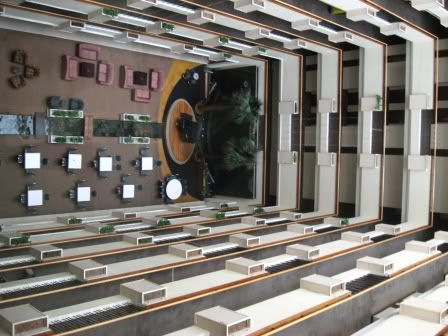 The tauge was especially nice - rumour has it that it's because of the limestone around Ipoh. For the same rumoured reason, many Ipoh people are as fair as snow and their teeth are stronger than average thanks to the calcium carbonate which is found in abundance around the Ipoh hills. XD Anyway, superb chicken...
Moving on, we drove up to Penang on Monday afternoon and booked into the Copthorne Orchid hotel overlooking a beach. Very nice beaches they have. Then we ate one of the most delicious dinners at one of the hawker stalls in Penang. There was even a Roti Babi (Pork Roll??!!)...!!! We also met up with our old friends, Auntie Thok Seng's (something like that lah) family from Penang, and later also with Uncle Joel who was my godfather when I was little. I suppose he still is? I haven't seen them since I was about 5 or 6 years old... (11 years since I was in Penang!!)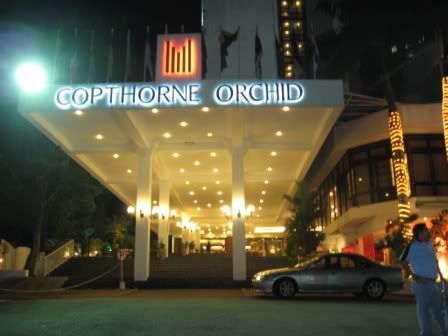 The whole troupe of diners consisting of 4 whole families!!


Auntie Thok Seng's family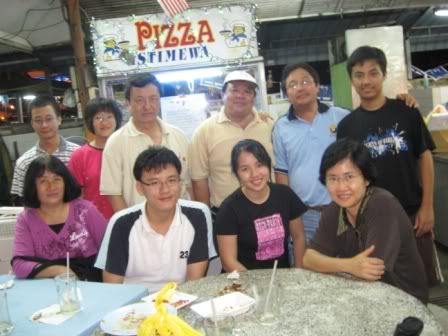 Auntie Thok Seng's family with my family and Uncle Joel at his pizza stall


Uncle Joel and I
The next morning, which was Tuesday morning, we had to wave goodbye to Penang as we had to go back to Banting. (All because of Matthew who had some table tennis practice or whatever in school... hmmph!!) We ate lunch with another old family friend Uncle Joe Foo's family at a famous chicken rice place called... Fatty Loh...!

Uncle Joe's family and my family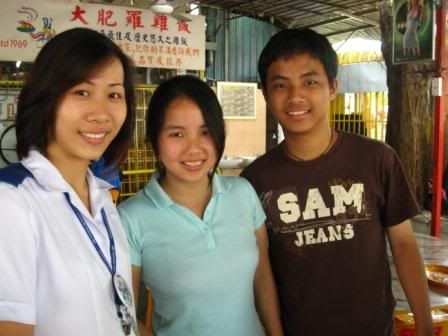 Michelle Foo, Hosanna and I
After that, it was another 5-to-6-or-more-hours drive down to Banting, stopping by at Ipoh again for dinner. It was terribly taxing especially to my ass (sit so long and not much space to move my legs arr!) and my sanity. (so damn boring you know! If it wasn't for Matthew's silly handphone games, I would die...) By the time we arrived home, it was about 11pm already!!
Although the travelling by road was rather tiring, I would have to say I liked this trip - not so much because of the beautiful place but because of the food (of course!!), the old friends and the company. Mark Twain wrote: there ain't no better way to know if you like someone or not than to travel with him. Travelling with the Lee family was fun - but as for the crazy boy, Matthew Lee, who is one year younger than me but thinks he is older... I have nothing to say...